Discover more from Soccer Sheet
Football, Fútbol, Fußball, and even Soccer
MLS Monday: Malanda Continues to Impress as Charlotte Keeps Hope Alive
Christian Fuchs leads Charlotte FC in kit sales - and almost leads MLS
Man of the Match and MLS Honors for Malanda
Since losing a home match to the Chicago Fire on August 6, Charlotte FC (11-17-2, 35 points) has struggled. They've lost to every team they've played since then except for New York City FC (luckily, Charlotte has beat them twice). Including the Chicago match, Charlotte's goal differential during this stretch is -8, over 75% of their season differential of -11. Charlotte was going into August with one of the best home records in MLS expansion history; they only won one out of four since Chicago.
Of course, the Chicago match also dealt a season-ending injury to talismanic center defender Guzmán Corujo, one of the most important players on the young Charlotte FC team. Charlotte's back line has missed Corujo's leadership, talent, intensity, and size as small defensive errors have turned into goals for Charlotte's opponents. As interim head coach Christian Lattanzio said at a post-match press conference on September 10, "Guzmán leaves a gap that is difficult to fill for now because he's a leader, he's more experienced, and he's consistent in his play." While Charlotte's poor performance in August goes beyond Corujo's absence, he's one of the key pieces missing from the squad.
Enter Adilson Malanda, who was signed two days before Corujo's injury.
The 6'3" international transfer from French Ligue 2 club Rodez AF has made an impression on the pitch, earning Man of the Match honors for Charlotte in their 1-0 win against NYCFC at home. After the match, Lattanzio said, "Our central defenders did a great job … [Adilson] of course is a guy who helps fill this gap." The rest of the league is taking notice as well; Malanda made the bench squad for Major League Soccer's Team of the Week.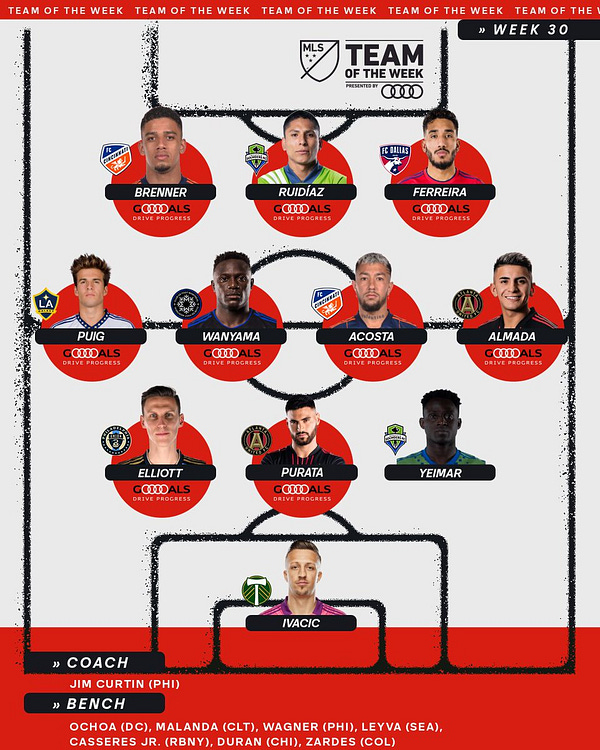 In addition to speaking with him earlier this month, Soccer Sheet caught up with Adilson after the match. He told friend of Soccer Sheet (and French translator) Adrian Singerman some interesting things about making the transition from France to Charlotte. Malanda told us the most difficult aspect of adjusting to Charlotte is something we can all relate to: the humidity. The first couple of weeks after his arrival in Charlotte, Adilson struggled to adapt to the muggy conditions during the team's practices but found that he had finally gotten acclimated when it came time for his first appearance on the pitch with his new teammates. 
In addition to speaking with us one-on-one, Malanda spoke with a gaggle of reporters after the match.
With the win against NYCFC, Charlotte FC improves to 11th in the Eastern Conference and is currently 6 points out of the playoffs with four matches to go. A playoff run is mathematically possible but unlikely. Charlotte's best-case scenario at this point is likely 9-10 more points (wins against every opponent but Philadelphia) if everything goes right for the rest of the season; however, they'll also need teams like Columbus, Orlando, and Cincinnati to draw and lose their remaining matches for the math to work. The silver lining for Charlotte's playoff hopes continues to be their number of wins – if they win 3 of their last four, they'll likely have a superior tiebreaker.
Fuchs, Świderski Lead Charlotte in Kit Sales
Charlotte captain Christian Fuchs has the second-best selling jersey in MLS, and Karol Świderski is not far behind in seventh. Per Charlotte FC, Fuchs and Świderski's sales contributed to the most successful and top selling inaugural jersey launch in MLS Store history.
Top-Selling MLS Player Jerseys, 2022 Season 
Gareth Bale - LAFC 

Christian Fuchs - Charlotte FC

Carlos Vela - LAFC  

Javier 'Chicharito' Hernández - LA Galaxy  

Josef Martínez - Atlanta United FC

Raúl Ruidíaz - Seattle Sounders FC

Karol Świderski - Charlotte FC

Xherdan Shaqiri - Chicago Fire FC 

Jordan Morris - Seattle Sounders FC 

Walker Zimmerman - Nashville SC
Speaking of team gear, MLS-branded shoes drop tomorrow for Charlotte, St. Louis, and other teams.
Adrian Singerman contributed to this story.